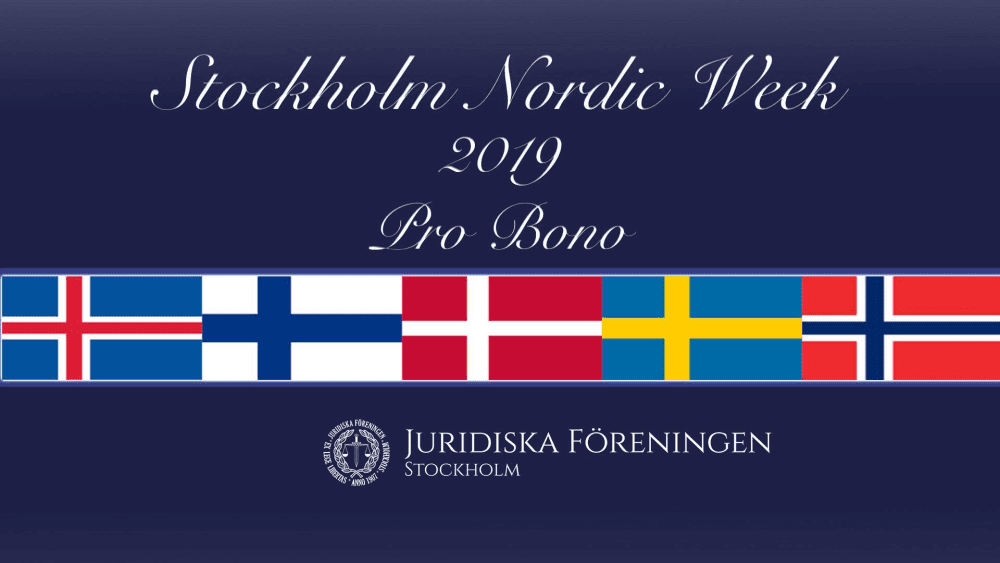 Leyfðir í skráningu:
1. ár
2. ár
4. ár
5. ár
3. ár
Kæru laganemar,

(English below)

Nú er komið að skráningu fyrir síðustu viku ársins 2019, en hún verður haldin í höfuðborg Svíþjóðar, Stokkhólmi, dagana 20. – 24. nóvember. Þema vikunnar eru "pro bono" og verður að sjálfsögðu boðið upp á fyrirlestra í takt við þemað ásamt heimsóknum á virtar lögmannsstofur þar sem rætt verður við lögmenn á þessu sviði. Aðrir viðburðir eins og sittning, skálaferð (hytte), sillis og árshátíð Juridiska Föreningens verða á sínum stað.

Verðið fyrir vikuna er 200€ og 170€ fyrir aðeins helgina. Orator fær þrjú sæti og eitt frísæti sem dreifist jafnt milli þeirra sem fara á vikuna. Umsóknir skulu berast á netfangið era17@hi.is en umsóknarfresturinn er til og með fimmtudeginum 24. október. Vinsamlegast takið fram fullt nafn, kennitölu, símanúmer, námsár, nefndareynslu eða önnur störf í þágu Orators og ofnæmi eða aðrar óskir ef við á.

Ef það koma upp einhverjar spurningar eða ef ykkur vantar frekari upplýsingar, þá getið þið haft samband við alþjóðaritara eða kíkt á facebook-viðburðinn:

https://www.facebook.com/events/380477729495115/

Dagskrána má finna hér að neðan.

Dear law students,

The appplication period for the last Nordic week of the year has opened. This week will be held in Stockholm, the beautiful capital of Sweden, the country af blondies and meatballs, from the 20th to the 24th of November. This week's theme will be Pro bono and we will attend lectures related to the theme. In addition to that we will have excursions to law firms and of course the usual events like sittning, sillis, hytte and Juridiska Föreningens annual ball.

The prize for the whole week is 200 € and the prize for only the weekend is 170 €. Orator will receive three spots and one free spot that will be dealt out among those who will attend the week. The application period closes the 24th of October. Please sign up via email to era17@hi.is and include you full name, date of birth, phone number, which year you are in your studies and allergies (if any).

If you need any more information please contact the International Secretary or visit the Facebook event of the week:

https://www.facebook.com/events/380477729495115/

Bestu kveðjur/Best regards

Erna Aradóttir
Alþjóðaritari Orators / International Secretary of Orator
era17@hi.is
S: 7773762

Preliminary schedule - We reserve the rights to make slight changes

Tuesday 19.11

20.00 Mingle for early birds at Juristernas Hus

Wednesday 20.11

9.30 Arrival at Juristernas Hus (Frescativägen 16)
11.00 Excursion to the Supreme Court of Sweden (Riddarhustorget 8)
13.00 Lunch at Juristernas Hus
15.30 Bus to hytte
xx.xx Fun and games at hytte
19.00 Hytte sittning – theme: IKEA
xx.xx Sauna

Thursday 21.11

8.30 Rise and (try to) shine
9.00 Breakfast
10.00 Bus from hytte
xx.xx Mellandöd
13.00 Excursion to Vinge (Stureplan 8)
16.00 Lecture by Hannes Snellman at Juristernas Hus
18.00 Thursday pub
xx.xx Sturecompagniet

Friday 22.11

9.00 Excursion to White & Case (Biblioteksgatan 13)
11.00 SURPRISE
14.00 Excursion to Roschier (Brunkebergstorg 2)
16.00 Mellanfresh
19.00 Nordic sittning – theme: Nobel Banquet
22.00 Afterparty

Saturday 23.11

12.00 Preparty at Juristernas Hus
14.00 Buses leave to Hamilton
14.30 Medal ceremony at Hamilton (Hamngatan 27)
16.00 Pre-årsbal mingle at Vau de Ville
18.00 Juridiska Föreningen Stockholm 112th årsbal
23.30 Buses to the afterparty (Juristernas Hus)
04.58 Nordiska gäster be like "näääär börjaaaarrr??"

Sunday 24.11

12.00 NU börjar sillis!!! – theme: ugly Christmas sweater
13.00 "Vi vill ha int.sek på bordet!"
13.01 Int.sek found trying to escape the premises
13.10 Int.sek finally back on stage and bubblis starts
xx.xx Int.sek having a minor mellandöd, guests continue sillis
xx.xx Eftersillis! Int.sek is back to say byebye nordiska gäster!
xx.xx VI SES I NORDEN!
Það er ekki netskráning á þennan viðburð, hafðu samband við stjórn fyrir frekari upplýsingar. 🎉